OTG's Trade Deadline Marathon: OKC Begins the Rebuild.
Updated: Feb 2, 2020
CHI receives: Steven Adams, Dennis Schröder, and two first round picks
OKC receives: Lauri Markkanen, Otto Porter Jr., and Cristiano Felico
Why the Bulls do it: They've been needing to shake things up for awhile. They are only a few games behind being the 8th seed in the East and catching the Orlando Magic seems like an attainable task. A few of their roster moves from the past offseason haven't necessarily worked out in their favor either.
While Dennis Schröder has excelled in his sixth-man type role, he could either continue that in Chicago, or compete with Tomáš Satoranský for the starting point guard role. Steven Adams would allow Wendell Carter Jr. to slide over into the power forward spot, and provide a toughness inside that the Bulls have lacked.
The icing on the cake here though is securing two first round picks from the Thunder, while also swapping Porter Jr.'s contract, with one that is a better fit with the team making a push to win now. The Bulls may not desire to pay Markkanen when the time comes, so they retool their draft assets and put their future money elsewhere.
This deal gives the Bulls two veteran presences to put around rising star Zach Lavine. Weirdly enough, outside of Thaddeus Young (and Porter Jr. who would be sent out in this proposal), Lavine is the elder statesmen on this young Bulls squad. He's only 24-years old too.
If Carter Jr. can make the leap next year while Lavine continues to grow, the Bulls could find themselves squarely in the playoff picture. If things don't work out at planned, they'd have two expiring contracts for next seasons trade deadline to deal in hopes of turning things around once again.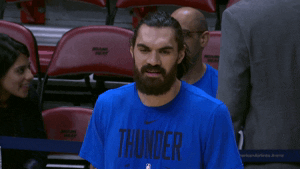 Why the Thunder do it: You can only have so many draft picks, at some point you have to acquire NBA-ready talent. Adams and Schröder do not play into the future for the Thunder who now aim to build around Shai Gilgeous-Alexander.
Markkanen gives the Thunder a promising young forward who is having a down year in Chicago. After next season, he's going to no longer be on a rookie deal and will command more money, money that the Bulls may not be willing to give, but the Thunder will be in the market to pay cornerstone pieces.
Porter Jr. was signed to a contract that he hasn't lived up to. That's partly due to being injured and partly due to not capitalizing on the promise that so many have seen in him. He gets another chance to prove his worth in OKC, where he most likely opts into his final year of his 4-year, $105 million contract he signed as a Wizard.
If the Bulls are in win-now mode, a rehabbing Porter Jr. and Markkanen do not help. However, the Thunder free up more responsibility for Gilgeous-Alexander here while giving them a versatile wing, who when healthy, would be a large upgrade over any other wing they have on their roster.
Depending on what the team does with Chris Paul, even with this deal, they retain their ability to continue making a push for the playoffs. Obviously quite a bit of this deal hinges on whether the Thunder think both Markkanen and Porter Jr. can get healthy and put their injuries behind them. If they believe that, then they send out two players who are not a part of the franchise's future and two picks, for two potential building-block pieces. Make your own trade at tradenba.com