OTG's Trade Deadline Marathon: New Orleans Lands an Elite Big
PHI receives: PG Jrue Holiday, C Jahlil Okafor, Round 1 2020 (via CLE), Round 1 2021 (via WAS), Round 2 2020 (via WAS), Round 2 2021 (via WAS)
NOP receives: Joel Embiid
Why the 76ers do this: The 76ers are in a weird place right now. They will contend in the playoffs, but they don't have enough to win it all. I feel it's time for them to move forward, one of Ben Simmons or Joel Embiid needs to go. They don't need an All-Star center to win the championship. As long as they have the firepower surrounding Al-Horford and a serviceable backup, then Embiid can be traded. Okafor is the serviceable backup in this case and can prove there was a reason this franchise drafted him in 2015. The 76ers can use Embiid's value to recoup something that suits them.
The main reason the 76ers make this trade is because of Jrue Holiday. I believe that Holiday and Simmons can coexist in the same lineup. They can switch between the one and two positions with Richardson coming off the bench. Simmons has become a better facilitator, but not many players facilitate for him and Holiday can do just that. The 76ers could take some inspiration from the Los Angeles Clippers and stagger their lineup. Could you imagine having an elite guard on the court for all 48 minutes, well the 76ers can!
Jrue Holiday seems to agree.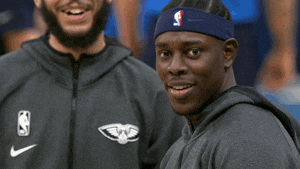 To sweeten the trade, ensuring the 76ers are compensated for losing the best center in the league. They receive two first round picks and two second round picks over the next couple of seasons.
Why the Pelicans do this: The Pelicans are still building, but everything we've seen up to now, is very promising. They have a really young core that looks ready, sooner rather than later. Currently, they have Favors on an expiring contract and this gives them room to not re-sign him and use that money elsewhere. They have Zion Williamson who plays the four and Jaxson Hayes who plays the five, so they won't be short on numbers. By bringing in Embiid they upgrade their rim protection with a big man that can help out on offense. This doesn't impact the development of Hayes, who can still play the same role as he does now.
Holiday would be missed, but the Pelicans are more than prepared in that department. They don't need a scoring point guard, they need a facilitator for the others and they have that in Lonzo Ball. I think this will take the Pelicans to the next step if their overall development continues. Next season they could easily be a top six seed in the West.
This trade works for both teams and continues 'The Process'.