Anthony Davis May Be Out 2-4 Weeks With Finger Injury
USA Today
Anthony Davis injured his left index finger last Friday in a game against the Portland Trailblazers. The initial timeline for his injury was for the Pelicans' star to miss 1-2 weeks.
Shams Charania reported today that Davis will be consulting a hand specialist in fear that he suffered a volar plate avulsion fracture.
The injury occurred when Davis swiped at the ball. It's hard to see in the gif, but his left index finger got caught on Leonard's arm and hyperextended. Davis would leave the game briefly to get his finger heavily taped.
The volar plate is a strong, ligamentous structure that lies on the underside of the finger where the middle and proximal phalanges connect. It's main function is to prevent the finger from hyperextending and providing stability to the joint. In an avulsion fracture, the ligament is not torn, rather a small piece of bone where the ligament is attached is pulled away.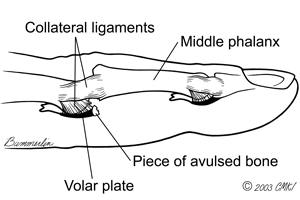 Symptoms of the injury include pain and swelling, as well as tenderness at the joint. The Pelicans were probably treating the injury as a finger sprain. However, Davis' finger was probably continuing to swell and have pain. The lingering of the symptoms was the cause of concern and led to Davis' camp to seek out a hand specialist.
Davis will continue to use taping or a splint to provide stabilization for the finger. It's important that he start therapy as soon as possible to start working on range of motion. With this injury, there's a risk that range of motion can be permanently lost. All in all, most people with this injury recover back to 100% if properly taken care of.
Now, there hasn't been a confirmation, but if the volar plate is involved, Davis will miss 2-4 weeks with the injury. The Pelicans will have to rely more on Nikola Mirotic, Julius Randle, and former top 3 pick Jahlil Okafor to bolster their frontcourt.
#NBA #NBATwi #NBAInjury #AnthonyDavis #NewOrleansPelicans #MattNguyen