Best Lineups of the Week - 10/26/18
Welcome to the weekly column where I will be picking lineups around the league that I like on both sides of the court. Let's get to it!
Defensive lineup I like
Let's start in Orlando, where their defense has been all over the place. At times you see them getting abused like they did at home against Charlotte and last night against Portland, or you see suffocating defense like the Magic played at Boston and in the opener against the Heat. Part of the problem has been head coach Steve Clifford trying to balance offensive/defensive lineups. Well, he found a great defensive lineup, in Mo Bamba, Aaron Gordon, Jonathan Simmons, Terrence Ross and Jerian Grant.
This lineup is massive. Grant is massive and long for a point guard; Simmons and Gordon can switch across multiple positions. Bamba's arms can cover the court and Ross when engaged has good size, and his shooting helps balance out the lineup. This group has played 56 minutes and has a stingy 87.8 defensive rating and a +15.7 net rating. Offensively it has been alright with a 103 offensive rating. The Magic should use lineups like these more; they are not going to outscore teams, their identity needs to be a tough, physical, long defensive team.
The strength of this group has been its ability to force turnovers and transition defense. Orlando is forcing turnovers on 22% of opponent's possessions, best in the league. Their transition defense is in the 92nd percentile according to Cleaningtheglass.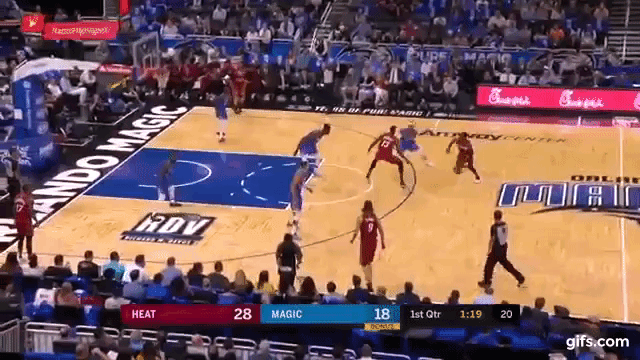 Dwyane Wade starts with a high pick and roll. Ross does a good job getting through the screen, and Bamba does an excellent job of stepping up to prevent any driving lanes. Bamba stays attached to the roller while stopping the driving lane, which is not an easy thing to do. This forces Wade to take a contested shot that misses badly. Ross gets the rebound and outlets up to Gordon. Gordon does an excellent job of driving into the paint to draw the defense and then feed Bamba for the easy dunk. You should check out the Magic, they're kind of fun.
Offensive lineup I like
Let's give the Kings some love! They are ninth in offense, playing at a blistering pace that ranks sixth in the league. Sacramento still stinks on defense, but there are finally reasons for optimism, because they found a lineup that makes sense. This lineup has started in some games, and based on its production should be the regular starting rotation. This group consists of DeAron Fox, who looks much better this season, Yogi Ferrell, Buddy Hield, who is quietly killing it, Nemanja Bjelica and Willey Cauley Stein. Bjelica and Ferrell have proved the Kings with some much needed shooting along with Hield. That gives plenty of room for Fox and Cauley Stein's two-man game. Cauley Stein also has never been better.
In 22 minutes this group has an absurd 124 offensive rating and a +28 net rating. A small sample size, but this group is killing it. They are posting an effective field goal percentage of 68% and true shooting percentage of 67%. The young Kings aren't even moving the ball that well, but they are running like crazy, drilling threes and getting to the free throw line.
Welcome to the modern NBA! Sacramento is finally joining the whole pace and space movement. Hield pushes the ball up quickly and then throws it ahead to Cauley-Stein. Cauley-Stein quickly notices Yogi is alone in the corner and whips a pass to him. Yogi drills the corner three. Ferrell and Bjelica have done wonders for the Kings spacing.
The Kings still have a long way to go, but there is more reason for optimism now. Fox looks like a long time starter; Hield is one of the best shooters in the league and Cauley Stein has emerged as an above average center. Bogdan Bogdanovich will be back soon giving the Kings another creator. He will be huge in helping pick up a second unit that has struggled.
Best two-way lineup
If you haven't noticed the Pelicans are rampaging the league. Anthony Davis is looking like the MVP and Defensive Player of the Year. Elfrid Payton picked up the Rondo slack. Nikola Mirotic couldn't miss until a cold Clipper game. Jrue Holiday remains a pitbull, and E'Twaun Moore looks better. Off the bench, Julius Randle has fit in seamlessly.
Depth is still an issue, but their starting five is one of the best in the league. Their starters in 48 minutes have an absurd +33.7 net rating. They have been crushing it on both ends. The Pels are posting an absurd 133 offensive rating with a 99 defensive rating. This group has continued to play fast at 107.6 possessions, and this monster group has dominated on the offensive glass. The most impressive part is they rarely turn it over, ranking best in the league in turnover percentage, and they get to the line a ton ranking in the 92nd percentile. That makes this the most efficient offensive group in the NBA right now.
Defensively, New Orleans is cleaning up the glass at an elite rate, preventing second-chance opportunities. With Davis and Holiday on the floor, they have two all-NBA defenders who can cover for a lot of mistakes. There are still mistakes, Moore is undersized, Payton can still be undisciplined and Mirotic can sometimes have some tough matchups. Tougher tests lie ahead, but the Pelicans are so good on offense and with two elite defenders, the ceiling is higher than we thought.
Here is Mirotic doing a good job switching onto Patrick Beverley and blocking his shot. There are tough matchups for him, but he is a better defender than given credit for. The ball ends up in Moore's hand, and he throws it up to Payton. Payton immediately races up the floor and finishes with a sweet reverse layup in traffic. Payton has been waiting his whole career to play on a team like this. New Orleans is getting the most out of him.