The Complete 2018 NBA Finals Preview: Cavs vs. Warriors Part 4
Here we go! Cavs-Warriors part four. The trilogy was great, but part four is lacking in drama and interest from fans and media around the league. Mainly because the Cleveland Cavaliers are one of the biggest underdogs in NBA Finals history. Still, as always, there is a lot at stake in these NBA Finals. Another Finals win for Golden State cements them as one of the best teams in NBA history. You win three of four titles, and you become a dynasty, win two of four, and you're great, but the Warriors would certainly feel like they underachieved with the talent they have.
For the Cavs, they have LeBron James, who is playing arguably the best basketball of his career. He has been carrying an enormous load with remarkable efficiency, while posting astronomical numbers. If he wins with the worst supporting cast he has had since 2007, it would be his most significant accomplishment yet and in many eyes make him greater than Michael Jordan.
The Cavs may have caught a small to medium break with Andre Iguodala's injury. He is questionable for Game 1, and if he is out that is significant for the Cavs. Iguodala is the primary LeBron defender, and while he can't stop him (no one can), he is one of the few defenders at least capable of making LeBron work. On offense, as we saw against the Rockets, the Warriors miss his passing and ability to fit into the Warriors free flow offense. The Warriors wing depth behind him is not good.
Still, the Cavs are dealing with injuries of their own. Kevin Love is questionable with a concussion, and while the Warriors are a tough matchup for him, the Cavs need him at full strength to have a chance.
The main questions in this series are on the Cavs side. Which role players can step up, can LeBron be great on both ends four times, and can Kevin Love provide secondary scoring while surviving on defense?
For the Warriors, it's the play of their bench, Durant having to guard to LeBron with Iggy out, and can their centers survive on defense?
The Cavs have more far more questions and concerns than the Warriors. Let's get into the factors that will decide this series.
Starting Lineups, and Best Lineups
The Cavs have shuffled their starting lineup all season and in the playoffs due to injuries, matchups and inconsistent play. Love is questionable for Game 1, but if he plays, expect him to start with Tristan Thompson in the frontcourt. LeBron, JR Smith, and George Hill will surround them. This group has only a +4.8 net rating in 95 minutes so far in the playoffs. It comes with obvious problems. One is George Hill and JR Smith. You don't know what you're going to get from either, especially Smith. Hill at least has been a constant in Cleveland's best lineups. He is steady on defense and knows where to be, but his offense just comes and goes.
Smith, on the other hand, is close to washed. He can still occasionally get hot from three, but that is about it. Sometimes he is nonexistent on offense and his defense has been poor for these playoffs. In the 2016 NBA Finals when the Cavs won, JR played terrific defense on Klay Thompson; I would be shocked if he did it again. Klay has gotten better, and JR has gotten worse. Both he and Hill will be dared to make shots.
Golden State will barely guard Tristan Thompson choosing to allow Draymond Green to play centerfield, keying on LeBron to help snuff out drives. Love will be attacked on defense. They will start him on Looney, so he doesn't have to deal with the Draymond/Steph pick and roll as much. Love is a better defender than you think. He is smart, and he competes, but this is still a tough matchup for him.
Cleveland will start this group, but Ty Lue needs to be quick with the hook if things get ugly quickly. The quick move is bringing in Kyle Korver for Thompson to add more shooting. They can move Love to center and James will have more room for drives. With Iguodala out, Love can hide on Looney or any Golden State center, and even their wings like Quinn Cook, Nick Young, or the reinserted Patrick McCaw. This lineup for the Cavs has a +11.3 net rating in 135 minutes in the playoffs.
This lineup should help the Cavs offense, but trying to outscore Golden State is a dangerous game. Cleveland tried to do it last year and lost in five, and they had Kyrie Irving. For defense, the Cavs should give Larry Nance Jr. some solid minutes this series. He has been a part of their best defensive lineups. He can hold his own on switches most of the time and competes every possession.
If the Cavs want to go the Houston rout and switch everything they have to switch things up. Don't be surprised if they try LeBron at center if they get desperate. That is only a break in case of emergency scenario. They will try Jeff Green at the four and at center, which held up well at times against Boston and gives them some switching ability. The lineup of Green, LeBron, Korver, Smith, and Hill had a 117 defensive rating and +9.5 net rating.
Even though on paper this lineup has some weaker defenders in Green, Korver, and Smith, it is more versatile. In this play, Marcus Smart brings the ball up with Hill on him. He passes to Jaylen Brown who drives on LeBron once he gets a screen from Marcus Morris. Cleveland switches and Kyle Korver hops on Jaylen Brown, and even though he gets beat, Jeff Green comes to help, and it results in a jump ball. Green can help because he is not worried about Aron Baynes. Cleveland should try this lineup against Golden State's bigger lineups.
For Golden State, things are more straightforward. They will start with the big four alongside Kevon Looney. Cleveland will entirely ignore Looney, but that is less of an issue than it was against Houston. Looney will be used more as a screener to try to get Love to switch onto Curry or Durant. That starting lineup, by the way, has a +17.2 net rating, so it hasn't been as much of a problem as people have said. If Golden State needs more offense, they can bring in Jordan Bell, who is a little more athletic and a cagey screener. He and Curry have developed some excellent chemistry.
This new wrinkle in particular is impressive. Curry will drive from the top right of the key. Once he draws help, he will pass to Bell who is in the left shallow corner. Bell gets it, Curry runs around him and goes to the left corner behind the three-point line. Bell passes it in between his legs and Curry splashes a corner three. This is incredibly hard to stop.
That has been their best offensive lineup without Iggy. Looney is better on defense, however. Still scoring should not be an issue for the Warriors in this series.
Shaun Livingston will be the first wing off the bench and will help the Warriors defense even though he offers a safe hiding spot for Cavs defenders on the other end. Still, Steve Kerr trusts him more than Swaggy P and Quinn Cook. Both will get a shot in this series but will be hunted on defense by the Cavs. The Warriors just need to survive those minutes. McCaw may get a shot too now that he is back, and if he is healthy may be the best answer as a backup wing. The death lineup with Green at center has struggled without Iggy. When they insert Livingston, they only have a net rating of +3.4, so they may play big a little more than they are used to.
What can each team exploit?
Cleveland has been better on defense in the playoffs than in the regular season. Yes, I know it's a very low bar. Cleveland has been the 7th best defense in the playoffs and has had some good moments, but they are inconsistent. Now they are going against the best defense of the playoffs and the second-best offense. The Raptors were first believe it or not.
Pace will be critical in this series. The Cavs are likely going to revert to their 2015 strategy of slowing things down, running LeBron post-ups and lowering the amount of Warrior possessions. Cleveland is 15th in pace among postseason teams, while Golden State is sixth. They should try to slow it down, but they need to run when they get the chance, particularly off Golden State turnovers. The Warriors can still get sloppy at times. Both teams have turned it over about the same amount of times in the postseason, but a Cleveland turnover is far more detrimental than a Warrior turnover.
Cleveland has been average in transition this postseason; they will have to be better in the few chances they get. In the half court, their go-to is Bron pick and rolls, and running Korver off screens. It is pretty simple. They need to get Love going too. Token post-ups are not the way to do it. Using him as a screener and a pick and pop threat is much better. If he gets his three going, Cleveland's spacing gets much better.
If they go to the post, they need to post up LeBron. It is not his favorite thing to do, but when he gets nasty, he is unstoppable. Double him, and he will find an open shooter or overpower whoever is on him and score at the rim. Especially with Iggy likely out, LeBron in the post should be a go-to. They can also get Durant or Draymond in foul trouble this way. He should also go to the post against switches off pick and rolls.
Here is a clip from the 2015 finals. LeBron gets the ball at the elbow with Klay Thompson on him. James takes one dribble and turns his back to Thompson and then backs him down with one more dribble and shoots a smooth jump hook over the top. This will be there at times for James, and he needs to take advantage. It is simple and primitive basketball, but it will often be Cleveland's best option. The question is how often can LeBron do it without tiring out?
Other times they need to let LeBron isolated. Golden State is weakest on defense defending isolations and post-ups.
For Golden State, they will push in transition when they get the chance. Cleveland still messes up basic transition defense with poor communication at least a couple times per game. In the half court, it will be lots of Steph pick and rolls. He can choose who he dances with. Against Houston, they unleashed the Klay/Curry pick and roll, and they will surely bring it back to test JR. Draymond will get plenty of opportunities to make four on three plays, but Cleveland will dare him to drive, and Green will need to look to score. Then there is the lethal Durant/Curry pick and roll, which will make LeBron work on defense. They have unleashed the Klay/Steph pick and roll before on Cleveland.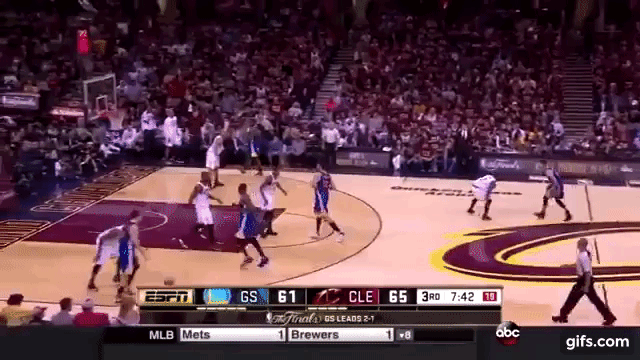 This is a clip from game 4 of the 2016 finals. Klay goes to set a screen on Kyrie. Kyrie and Klay's man JR go to trap Curry, which allows Klay to retreat to the three-point line. There Curry can pass over the two defenders and Klay has a wide open three, which he drains. The Warriors will bust this out at times in this series.
X-Factors
LeBron on defense is key. Often he chills on that end preserving energy, but when he is engaged, he is still a force. He will need to be in this series while carrying an enormous offensive load and playing monster minutes. How much energy he can expend on the defensive end is huge for the Cavs. He will spend most of his time on Durant, but will also see Draymond to stop Golden State's pick and roll actions.
Cleveland's biggest x-factor is George Hill. When he plays well the Cavs win, it's simple, he needs to be aggressive and hit his open threes. If he can get around 12-15 a night, the Cavs have a chance. On the other end, he needs to hold his ground against the Splash Brothers. He will spend time on both.
For Cleveland, the only bench players likely to get minutes are Korver, Green, and Nance. Jordan Clarkson can't survive in this series. Korver will compete on defense but will be targeted heavily by the Warriors. Last year, the Warriors also took him away offensively. Nance will have to survive some switches while bringing activity on offense. Jeff Green was good in the previous two games against Boston, but we all question if he can do it against the Warriors. He will be dared to make threes, but I like that he had the confidence to let it fly against the Celtics.
For Golden State, I would like to see Durant attack LeBron. He is one of the few players who have the confidence and skill to do it. Plus, extra effort expended by LeBron on that end is a win for the Warriors.
The Splash Brothers should be able to get theirs in this series, but keep an eye on Klay's health; he was clearly banged up in the Rocket series. For the Warriors, the only real question is the play of their bench, especially without Iggy. As long as Swaggy can survive his minutes on defense, they should be fine.
Prediction
This is a mismatch. If Iggy misses the series that is a break for the Cavs that helps a little, but still the Cavs have a lot going against them. They will try everything from slowing it down, LeBron at center, making things ugly, but they lack firepower outside LeBron, and their defense is not quite good enough to contain one of the most lethal offenses ever. They don't have the personnel that Houston does to switch everything and take away the Warriors ball movement. It is hard to find where Cleveland has an advantage, but they do have LeBron, and I have no doubt we will see more greatness from him in this series. Still, the Warriors firepower and great defense will be too much. As long as the Warriors play with energy and effort, they should win this series easily.
Warriors in five
Can the offseason start?
#NBA #Cavs #Warriors #NBAFinals2018 #CavsvsWarriors #EvanDyal