Roundtable: Who is the Most Improved Player of the Year?
This is one of the most feel-good NBA awards there is, period. This award is for the guy who stood out the most from a previous season, the guy who took his game farther than most predicted, or sooner than most expected. It's not something that happens as often as it may seem, that being players taking their game to a level higher than most thought was possible. Here's who we at Off the Glass have selected as Most Improved Player of the Year.
Most Improved Player, Victor Oladipo
It has to be Victor Oladipo. Oladipo in his fifth season and his third team has put together an All-NBA season. I have him first team all-NBA, yeah I said it! Pretty amazing for a guy who was an afterthought in OKC last year and projected at best to be a nice sixth man. This year Oladipo has shattered his career numbers by averaging 23 points, five rebounds and four assists per game. He has become more efficient by averaging a career-best five free-throws per game, and his three-point shooting is also a career best at 36 percent. Oladipo is also a tremendous defender. He has been so good that he is second among all shooting guards in RPM and first in wins added. You can make arguments for his teammate Domantas Sabonis, and guys like Josh Richardson, Tomas Satoransky, Gary Harris but no one comes close to Oladipo. Give him the award.
Most Improved Player, Victor Oladipo
Victor Oladipo will win this year's Most Improved Player. A lot of credit has to be given to the Pacers' organisation for getting the most out of the former Magic and Thunder guard. That begins with General Manager Kevin Pritchard who brought him in via the infamous Paul George trade. Hindsight is a wonderful thing and Pritchard deserves a ton of credit for signing him. It certainly doesn't make him Executive of the Year (LOL WUT @KwalHoops).
The coaching staff, headed by Nate McMillan, have been able to build a system around him that best utilizes his skills. The offense moves faster and Oladipo has been granted free reign on both ends of the floor, making him a more complete player and a first-time All-Star to go with it. Could he lead the Pacers to playoff glory? It looks unlikely, nonetheless as I mentioned on last week's JBT, the Pacers have been the league's biggest overachiever, with Oladipo at the head of that.
Most Improved Player, Victor Oladipo
I almost don't want to write anything because I know my case will pale in comparison to Kory's. This is usually the toughest award for me to pick each year because the criteria are so vague. This year seems like a no-brainer, though. I tend to favor players who make a leap when no one expected them to. Oladipo certainly fits that mold. Not only are his numbers up all across the board, but so is his efficiency. He's taken his game to another level, both offensively and defensively. However, it's his impact on a Pacers team that everyone expected to tank that's so startling. This was supposed to be a rebuilding year for a team that traded their superstar in the offseason. Instead, they found a new one in Oladipo, and he has the Pacers competing for home-court advantage in the first round of the playoffs. Honorable mention goes to Spencer Dinwiddie (That one's for you, boss).
Jonathan Ebrahimi - @Awrashoo
Most Improved Player, Victor Oladipo
The most improved player this season has to be Victor Oladipo. Forget about stats for a second and just think about the shift in mentality that is required to go from being a role player on the Russell Westbrook bandwagon to a stellar on-court leader for a Pacers team that has massively overachieved this season. Oladipo is having as good of a season as Paul George ever had in Indiana, and because of it the Pacers are a better team than they were previously, currently holding their highest seeding since 2013/2014. Now consider that Oladipo is posting career highs in PTS, AST, REB, STL, BLK, FG% and 3P%, he claimed the first all-star nod this season and has even found himself in the league MVP discussion. Not bad for a "role player".
Most Improved Player, Victor Oladipo
It would be a crime to give it to anyone other than Victor Oladipo. He leads the Pacers in scoring at 23.3 per game to go with 5.2 RPG and 4.2 APG. He has a PER of 22.6 and leads the NBA in steals (2.26). All of these statistics are career highs for Oladipo. However, his impact goes further than just the box score. The Paul George trade left the Pacer basketball future questionable, but Victor has exceeded expectations, revitalized his career, and set the stage for the beginning of a blue-collar culture in Indianapolis. Clint Capela is in contention and is a viable candidate, but its all Oladipo this year.
Most Improved Player, Victor Oladipo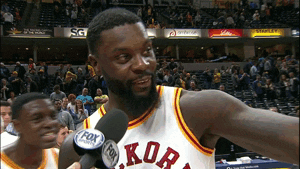 This GIF is my feeling after seeing how everyone picked Victor Oladipo as the the victor of this award. A Pacers team I picked to win just 32 games has 44 wins, a clinched playoff spot, and still the opportunity to have homecourt. Oladipo has raised his numbers across the board, and has cemented himself as the face of the franchise for the time being. The Pacers are where they are today because of him, when Oladipo has missed time they've failed to win a game. Along with the much improved offensive game, a case can be made that he's also elevated his game on the defensive side of the ball too. Oladipo has had at least one steal in 55 straight games. Something which can help you understand how he is sitting at number one on the NBA steals list with 156 steals. Who's second you may be wondering, well, that would be Paul George with 146 steals. Go figure, only in the NBA, now watch the GIF again for theatrical purposes. With Oladipo on the court and his game reaching Super Saiyan levels, the Pacers future looks bright. I mentioned this in piece I wrote a month or so back, last season for Oladipo was needed. Playing alongside Westbrook showed Oladipo how to be a leader, how to use his athleticism as a weapon, and how to finish games. Oladipo does it in his own style, but he learned how to win last year and it's showed this year. Victor Oladipo is the unanimous, Most Improved Player of the Year for Off the Glass.
#nba2kleague #nbabasketball #NBADraft2018 #hoops #pacers #Pacers #NBAAwards #Roundtableawards2018 #roundtable #Roundtable