Roundtable: The Executive of the Year Is __________?
Let's be just be real here, one of the best times of the NBA is...? If you aren't thinking free agency you're probably a communist or something equally worse. Free agency and the NBA offseason is so entertaining because of what happens behind closed doors by executives, in this roundtable we choose our picks for who is the best executive this season.
Jonathan Ebrahimi - @awrashoo
Executive of the Year, Danny Ainge
There are a few good candidates for Executive of the Year, but for me Danny Ainge takes the cake. For starters he drafted arguably the best player in the 2017 NBA draft in Jayson Tatum (Donovan Mitchell is great, but to me Tatum looks more promising). As a follow up act he managed to secure the services of Gordon Hayward this summer and although he missed his first season in Boston, you have to imagine that his presence will make that team even more formidable next year. Then, Ainge managed to absolutely fleece Dan Gilbert and the Cavaliers in the deal that brought Kyrie Irving to the Celtics. On top of that Ainge managed to add some nice rotation pieces in Marcus Morris and Greg Monroe, all the while keeping plenty of assets stockpiled just in case someone like Anthony Davis becomes available.
Executive of the Year, Danny Ainge
Daryl Morey is a popular pick, but who wouldn't have traded for Chris Paul? It's not as easy to revamp a roster that went to the Eastern Conference Finals and still be successful. The Celtics only had four players return from that squad (Al Horford, Terry Rozier, Marcus Smart, and Jaylen Brown). First, Ainge traded the first overall pick to drop two spots in the draft and acquired another potential future lottery pick. Then, he drafted Jayson Tatum, the guy that fit best with his roster anyway. Ainge then proceeded to sign the best free agent available last offseason in Gordon Hayward. Next he sold high on the inflated trade values of Jae Crowder and Isaiah Thomas, packaged them with their coveted Brooklyn pick, and turned them into Kyrie Irving! Oh, and lastly, he filled the roster with defensive-minded role players like Daniel Theis and Aron Baynes, a big reason they've lead the league in defensive efficiency. Despite the massive roster overhaul and the litany of injuries this year, they are still second in the East.
Executive of the Year, Daryl Morey
Shout-out to the Indiana Pacers for a surprisingly impressive season and roster turnaround, but this year's Executive of the Year has to end up with either Toronto's Masai Ujiri or Houston's Daryl Morey. Each team is now sitting at #1 in their conference after finishing 3rd last season and each has proven to be a well-constructed, balanced roster as both have at least 11 players averaging 15 minutes per game. While I would love to give the Raptors the edge since their roster has made so much out of such unexpected standouts, the Rockets literally have a full 10 players averaging 20+ minutes per game and 7 averaging 10+ points (outdoing the Raptors by 4 and 2, respectively). If it wasn't for Victor Oladipo's Most Improved Player award, this terrifying Houston squad might really win every award this season.
Executive of the Year, Daryl Morey
To me there is no argument you could make for any executive other than Morey. He made some big moves in the off-season that have led to the Rockets being absolutely dominant this season. He found a way to get Chris Paul via trade and was able to sign Luc Mbah a Moute and P.J. Tucker to shore up a defense that gave the Rockets some trouble last season. He has built the perfect team for his superstar, James Harden. Paul gives Harden the rest that he is going to need for the playoffs, while Clint Capela is the ideal big for what the Rockets want to do. Morey was not done and made some shrewd moves throughout the season as well with the signings of Gerald Green, Joe Johnson, and Brandan Wright. Morey has made all the right moves this season and the Rockets have a real shot to contend.
Executive of the Year, Daryl Morey
Judging the league's best executives is one of the toughest exercises. What do you take into account? Low-key savvy moves? The ability to attract free agents? Frankly, it's a combination of both, and that's why Houston Rockets general manager/analytics guru is the Executive of the Year. In the offseason, he was able to secure the services of P.J. Tucker and Luc Mbah a Moute at below market rate. He also added Chris Paul, one of the best point guards in league history to the fold, a move that was initially met with heavy skepticism.
While questions around the Rockets still remain, they have their best shot in recent history to qualm those fears.Paul and Harden have a lot of naysayers but they're both in an ideal situation to silence those critics.
As for the man who brought them together, if they're able to achieve the ultimate glory, then Morey will not only go down as the Executive of the Year but a historically great one.
Executive of the Year, Daryl Morey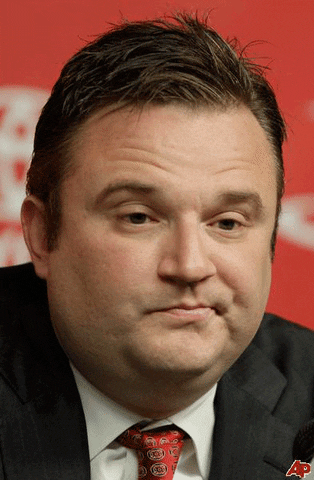 Before Isaiah Thomas was swapped for Kyrie Irving, the Houston Rockets were the talk of the offseason. Now that the season is almost over, we can see which trade was more effective. Last season the Rockets were a one-man band with James Harden and were not a legitimate contender. After Daryl Morey traded for Chris Paul to add to the star power that is James Harden, they became arguably the best team in the league. They hold the one seed and show no sign of losing it. More importantly, CP3 and "The Beard" have carried their team into the conversation as possible 2018 Champions. There's no telling what homecourt advantage could mean in the playoffs for two of the greatest offensive weapons in basketball, even against the Golden State Warriors. Without Paul, the Rockets would likely not be the contenders that they are now, so all thanks to Daryl Morey. This trade put a little mystery into a season that seemed decided from the start, and with the playoffs rapidly approaching it's time to see how well Daryl Morey's trade will pay off. Is there a chip in the near future for Houston?
Executive of the Year, Kevin Pritchard
I know, I know, how dare I pick someone from the Indiana Pacers, right? Well, after letting Jeff Teague walk and being forced to trade Paul George. The Pacers are sitting at 41-30, with Victor Oladipo and Domas Sabonis being huge reasons why. A deal that was ridiculed, has become one of the best trades of this previous offseason. With signings of Cory Joseph and then scooping up Trevor Booker off the buy-out market on top of that. Pritchard has shown he's turning this Pacers team into a quick re-tool, rather than a rebuild. Not sure he himself knew what Oladipo would be, but either way he's on the right end of the results. Daryl Morey is likely the winner, and I have no beef with him winning it. Acquiring Chris Paul, bringing in PJ Tucker, Joe Johnson and Gerald Green is great. The Houston Rockets are in prime position to reach the NBA Finals and it's because he is steering the ship.